Auschwitz staff enjoying life.
Rarely seen footage of Auschwitz death camp after its liberation by the Soviet Army.
Very moving. The video is claimed to show the liberation of Auschwitz by the Russians, but the soldiers in the film are mostly American. Little issue here; this mere documents that every ally liberated camps, over and over.
Chilling: The only photo record of the process of annihilation
Auschwitz as seen through eyes of the SS there
"In January 2007, the United States Holocaust Memorial Museum Archives received a donation of a photograph album. The inscription "Auschwitz 21.6.1944" on its first page signaled the uniqueness of the album—there are very few wartime photographs
of
the
Auschwitz
concentration camp complex, which included Auschwitz-Birkenau, the largest Nazi
killing center
. Though his name does not appear anywhere in the album, the dates of the photographs and various decorations including adjutant cords on the uniform of the album's owner, indicate that the album almost certainly belonged to and was created by SS-Obersturmführer Karl Höcker, the adjutant to the commandant of Auschwitz, SS-Sturmbannführer Richard Baer. "
.
Inmate forced to use makeshift
toilet
The album "
Karl Höcker's photograph album includes both documentation of official visits and ceremonies at Auschwitz as well as more personal photographs depicting the myriad of social activities that he and other members of the Auschwitz camp staff enjoyed."

. .
... "
Perhaps the most extraordinary photograph depicts an accordionist leading a sing-along for approximately 70 SS men taken at this gathering. In the front row of the group are Höcker, SS-Hauptscharführer Otto Moll (the supervisor of the gas chambers), Höss, Baer, Kramer, Franz Hössler (commander of the female prisoner compound at Birkenau), and Mengele. These are some of the only known photographs of some of these men, including Mengele, taken while they were stationed at Auschwitz." ...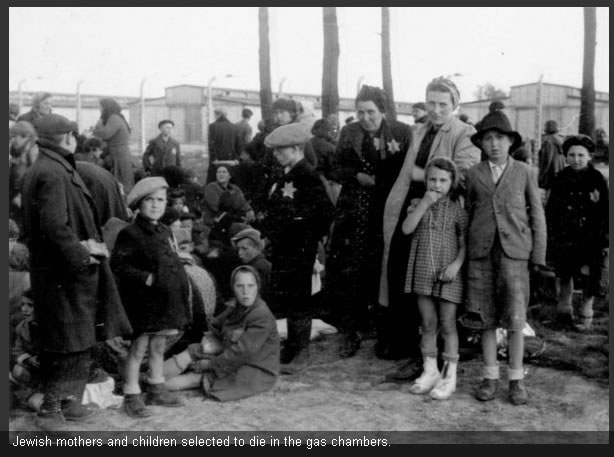 Unaware Jewish mothers and children selected to die within the hour.



Never again.....? Come quickly, Lord.
.