One's first reaction to this is often "good riddance".
John Fund at National Review
"Liberals used to hate secession, the notion that states could leave the Union as they did before the Civil War because they didn't agree with the policies of the federal government. But with Donald Trump's election, many California liberals suddenly have warm words for a budding ballot initiative that has just begun collecting signatures in order to place secession, or "
Calexit
," on the ballot. At the height of the tea-party movement, Texas governor Rick Perry merely hinted at the thought that Texas might react to President Obama's executive overreach by reclaiming its one-time status as an independent republic. " . . .
Now we read about a "virtual secession".
. . . "
Let the sprawling, diverse state divide up into two or more states to ease tensions between farmers and coastal types, defuse the war of ideology between Left and Right, and allow more policy experimentation."
. . .
"Of course, it's unlikely that California will ever be divided. It's even more unlikely that it would cut its ties to the rest of the nation and become a separate country. But the debate on both ideas is healthy. To what extent should we let arbitrary political boundaries established many decades ago curb our imagination and prevent us from creative solutions to our problems?" . . .
Hoping to escape the oppression of left-wing California would be the citizens of the State of Jefferson
"The
State of Jefferson
just got one step closer to becoming a reality. On Tuesday California Secretary of
State
Debra Bowen announced that the secession proposal known as "
Six Californians
" could move forward and petitions
be
circulated for signatures.
"For Northern California to split from the rest of the state, State of Jefferson supporters would have to garner at least 800,000 valid signatures and be placed upon the ballot for vote. Even if the Six Californians movement wins on election day, supporters still face an uphill secession battle." . . .
You can buy your own Jefferson flag!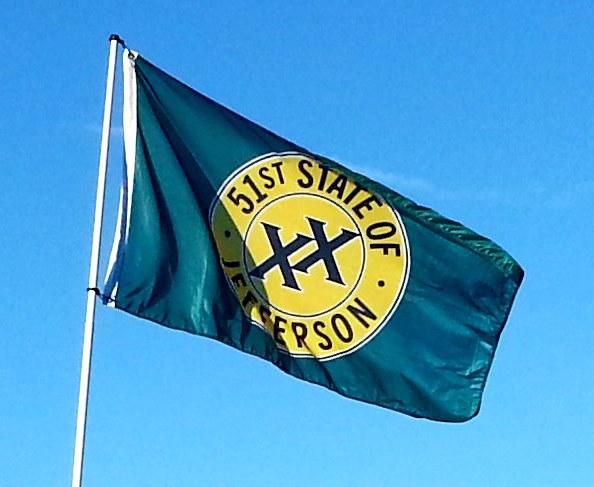 "So it won't happen. California will remain a state, and that is a good thing for them and the rest of us.
"However, one good thing about California being a foreign country is that an L.A. Dodgers vs Texas Rangers final would literally be a World Series. The winner will finally be the actual world champ."
* And the launch sites at Vandenberg Air Force Base?