Buzzfeed
(Yeah, I know. But what are you gonna do?)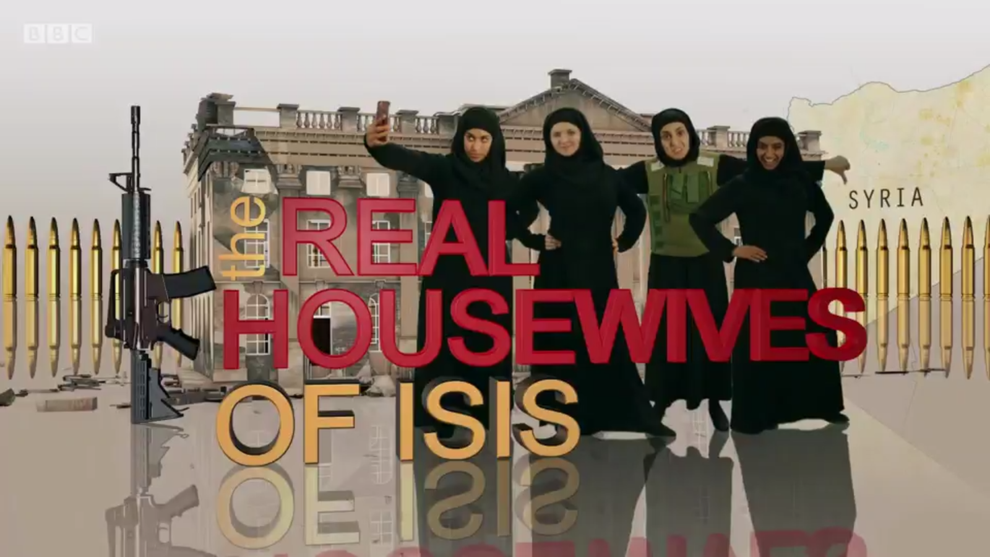 "The sketch, which satirises the well-known American series about wealthy housewives in New York and Beverly Hills, aired for the first time this week on the BBC Two comedy show Revolting. It depicts four British ISIS jihadi brides in Syria." . . .
Via The Freedom Fighter's Journal
ISIS parody video: Offensive or a blast of hilarity?
Meanwhile, Khuram Zaman, CEO of the digital agency
Fifth Tribe
in Washington, DC, sees the bigger picture and the message the edgy Real Housewives of ISIS sketch was trying to send.
" 'It's a hilarious video, and very well done," Zaman told
Red Alert
. "Most are corny, but this was well done. Other videos that tried to use a satire were in poor taste. The State Department produced the video
'Think Again, Turn Away.'
It was horrible."
"Through his company, Zaman hosted a hack-a-
thon
in which they created a tool to scrape pro-ISIS tweets on Twitter. Speaking to
Red Alert
, Zaman noted that while he understands how activists find Real Housewives of ISIS offensive, it's a necessary video. "These guys [ISIS] are using propaganda, and this is a good countermeasure against ISIS. I don't know if people are watching and changing their mind, but it forces the conversation to the Muslim community that young women are joining ISIS. There's something we have to do about that.' "