Van Jones: Tax Return Leak a 'Good Night for Donald Trump'
"The White House soon preemptively
released
Trump's 2005 taxes ahead of Maddow, showing that the president earned $153 million and paid $36.5 million in income taxes that year."
Weasel Zippers
"How dare the viewers assume that she had anything important given this breathless tweet:" . . .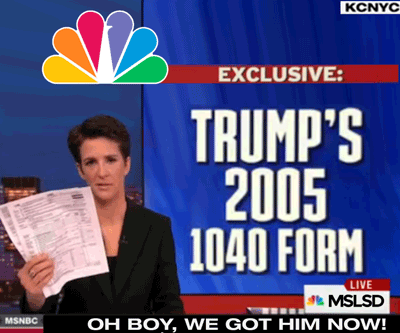 "What Maddow and the fine folks over at MSNBC actually managed to do was get part of a copy of Trump's 2005 tax return. Which was already 12 years old. And which the White House had already released.
"Needless to say, the Twittersphere wasn't all too happy as Maddow droned on...and on...and on during her open monologue, bashing Trump (and throwing out all manner of random, unsubstantiated speculations regarding his finances) without actually giving anyone any new information. Here are a few of the best reactions we found from the less-than-enthused:" . . .