The Guardian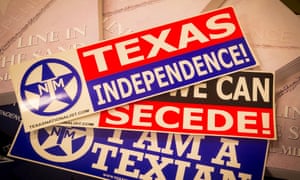 . . . "Culturally, too, we are a long way from Europe. Heck, we are even a long way from Dallas. But the referendum matters deeply to Miller and like-minded Texans. As the president of the Texas Nationalist Movement, which wants Texas to secede from the United States, he is hoping for a Leave vote that he believes will ripple all the way from Austria to Austin.
" 'There are a lot of people asking, if Brexit why not Texit?" he says. "I do talk with some folks over there on a pretty regular basis that are involved in Ukip and the Conservative party."
"The night before we met, Miller addressed a local Tea Party group, drawing parallels between Brexit and Texit, which the TNM is pushing as a hashtag. In Miller's telling, Britain's relationship with Europe was a marriage of convenience between ill-suited partners that has become stormy and ripe for divorce on grounds of irreconcilable differences, with too much sovereignty ceded to an ineffective central bureaucracy and too much hard-earned money sent elsewhere." . . .