Zero Hedge "
What we know so far:
The Manchester Arena was hit by at least one explosion during a concert by Ariana Grande

Police confirm 22 Dead, around 59 injured

Police state it is 'possible terrorist incident'

UK officials suspect it was caused by suicide bomber.

Senior counter-terrorism officials meeting in London

Police warn people to stay away from area

Emergency services rush to scene

Ariana Grande 'Okay' following the incident
"Here is the summary: A man armed with an "improvised" bomb has killed at least 22 people and injured 59 outside a concert arena filled with teenagers in central Manchester on Monday night, in the worst terrorism incident in the UK since 2005. Police said the bomber, who died in the explosion, detonated the device shortly after the end of a concert by US pop star Ariana Grande at about 10.30pm. The incident adds the northern English city to the growing list of recent western targets that includes London, Paris, Stockholm and Berlin.
"Quoted by the FT, Ian Hopkins, chief constable of Greater Manchester police, said they were still attempting to determine whether the attacker "was acting alone or was part of a network"." . . .
Islamic State jihadi claims responsibility for Manchester Ariana Grande concert attack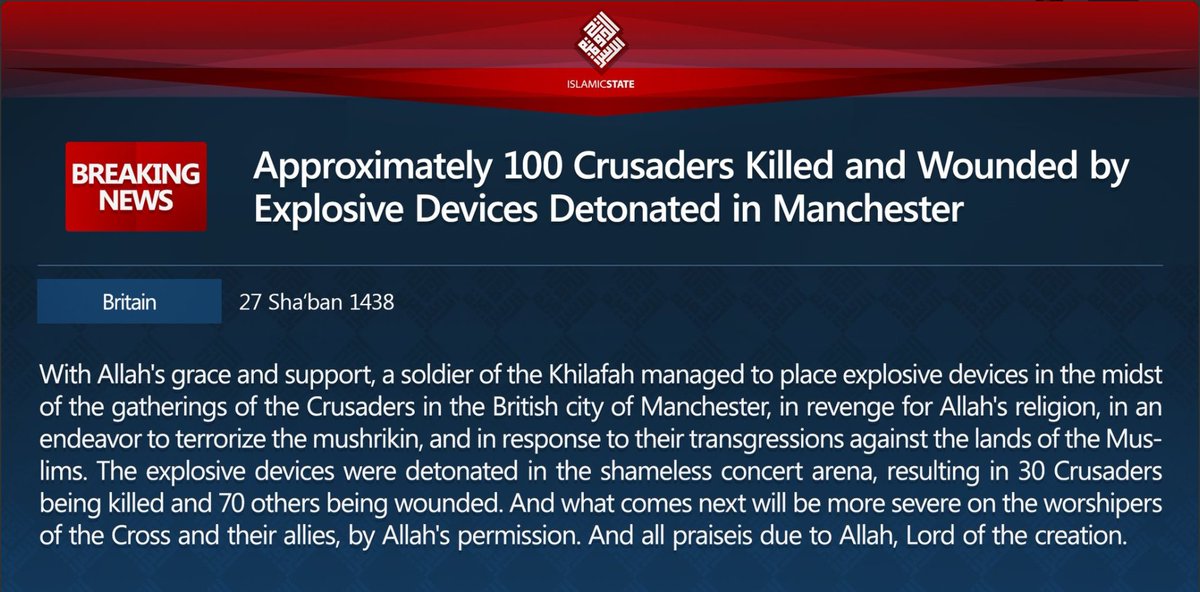 Lets all ask together, "what evil have we done to offend you, Abu?"