Also read
The Jihadis Next Door review: Channel 4 was absolutely right to make this film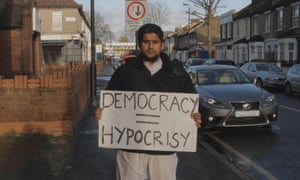 News.com.au
"
One

of the terrorists behind London's Saturday night attack was reported to an anti-terror hotline two years ago but ignored, a UK man has revealed.
"Speaking anonymously to the BBC's Asian Network, a man who didn't want to be identified said he phoned police to report his fears after speaking with the man who went on to carry out the attack.
" 'Two years ago we spoke about a particular attack that happened and like most radicals he had a justification for anything for everything and everything,"
. . .
The alleged London attacker featured in a documentary about radicalisation.
. . . "While police have not yet named the attackers, it has been revealed one of them lived in Ireland and reportedly used it as way of travelling to Syria under the radar of UK authorities.
"Another man pictured in an Arsenal shirt has been identified by locals as a "family man" who once appeared in a documentary "
The Jihadi Next Door
".
Friends said he listened to hate preachers online.
"During the Channel 4 show the 27-year-old attacker is shown posing with an Islamic State flag. He is believed to have previously worked for KFC and Transport for London. He had also been kicked out of a mosque for his radical views."